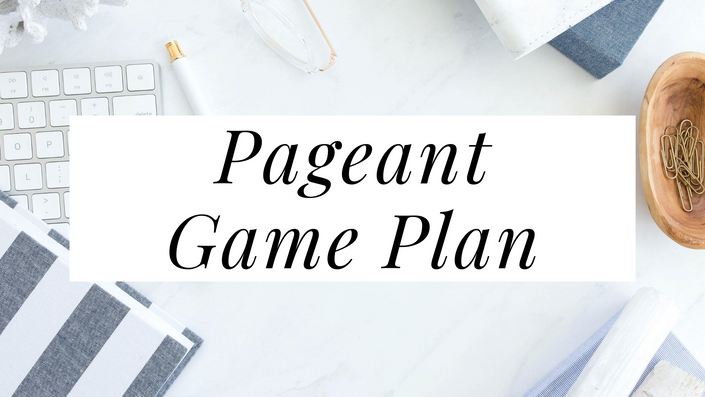 The Pageant Game Plan
Your Ultimate Guide to Pageant Brand, Platform, Interview & Paperwork to Market YOU like a Queen!
Discover The Simple, Step-by-Step System Successful Women Use To Prepare For Pageant Interviews, Stand Out From Other Contestants, And Wow The Judges
The Truth: It's not your fault that you haven't won yet.
I know it feels like there is some kind of secret strategy you haven't been told… and you are right.
The industry is full of lies that seem to catch like wildfire... like "Different Day, Different Judges, Different Girl." -- implying that if you competed again tomorrow, a different girl may have won.

Or... have you heard this one: "You were so close, try again next year and you'll probably win!" ? -- that one held be back from a competitive title for YEARS!

The truth is: Pageants are like the circus - only a few people really know how it's done!
Wouldn't it be great to be simply watlz into the interview room with the confidence that you have EXACTLY what it takes to win?


Take a moment to Imagine..…
Knowing the winning strategy: It's time to let you in on the secret strategy that got me from perpetual 1st runner up to winning Miss California in less than 90 days.
Ace-ing your interview with confidence: Know exactly what to say and how to lead your interview so you get the win.
Having judges fall in love with you: You'll show up strong in each part of the pageant process making the judges decision a no-brainer.
Attracting sponsors and media attention: Be in the spotlight and get the notoriety and prestige that comes along with it so you can make an impact.
I want to introduce you to my exclusive, proven system called
Pageant Game Plan
Discover The Simple, Step-by-Step System Driven Women Use To Prepare For Pageant Interviews, Stand Out From Other Contestants, And Wow The Judges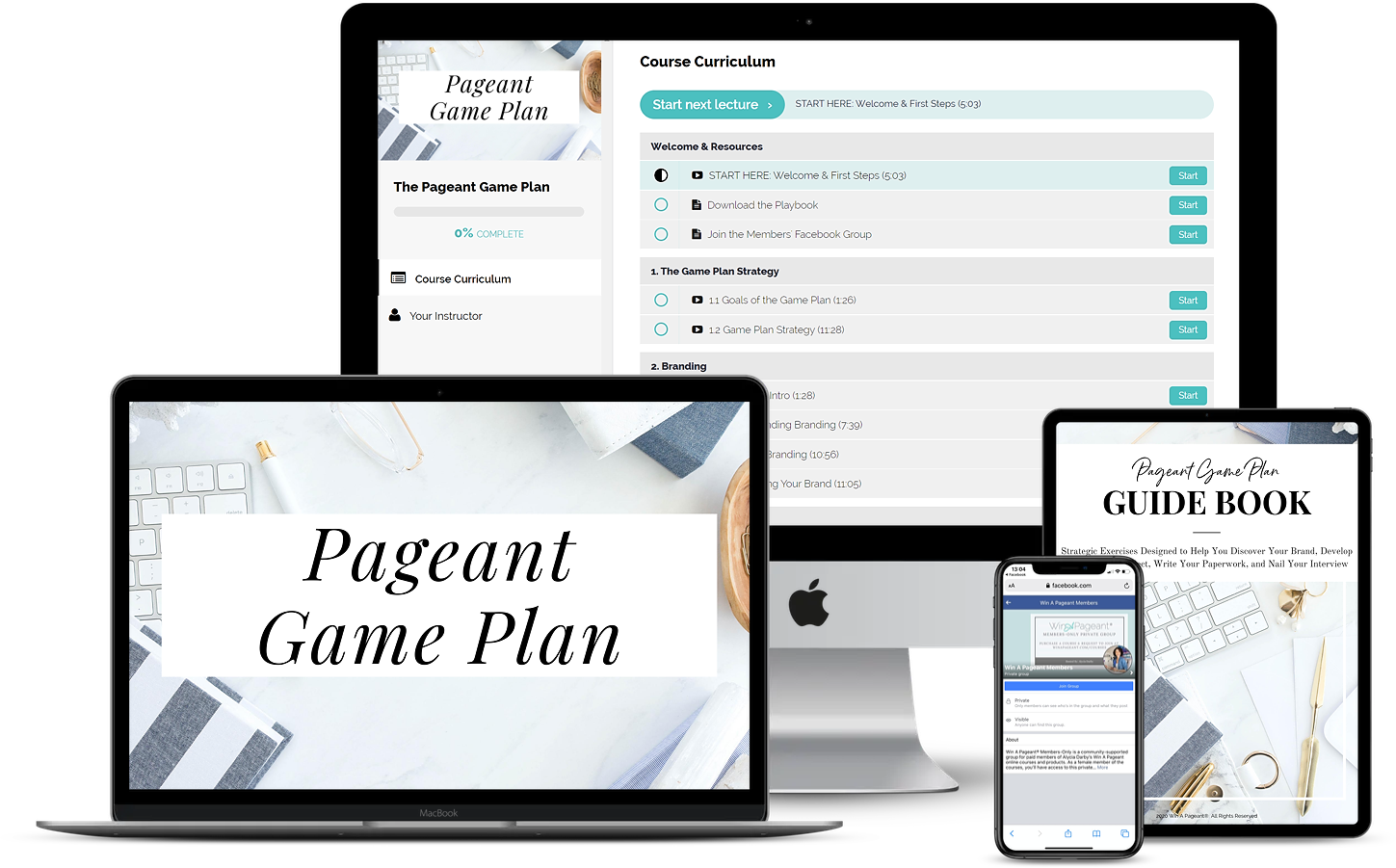 1. Be Irresistible
Uncover your unique and irresistible personal brand.
The good news is you already have this inside you, it's just a matter of bringing it out to the forefront. Let's show the judges your winning brand so you can take the prize!
2. Leave a Legacy
Create something that attracts attention from sponsors and media and your judges.
When you make a difference in your community, you'll stand out from the crowd and have something amazing to share in your interview. Judges love contestants who do impressive things like publish a book or launch a podcast.
3. Lead Your Interview
Spark curiosity through your paperwork and interview.
Don't leave anything to chance. Learn proven, winning methods to lead your interview, create curious paperwork, and nail your stage presence. I'll show you exactly how to nail all three so you are unforgettable to the judges.
No more throwing caution to the wind and seeing what happens on stage. You're better than that.

Be Strategic. Win the Crown.
Here's what you get:
6 Module Self Study Course: You walk step-by-step through every part of the system. The course includes worksheets, tools, and implementation tips all along the way.

BONUS #1 - 100 Real Pageant Questions: so you can practice all the new skills you've learned with real questions you could be asked in your pageant.

BONUS #2 - Paperwork Editing Checklist: so you can stand out in the stack of paperwork.

BONUS #3 - Controversial Topics Answer Guide: so you can anticipate what you may be asked and come up with excellent responses that reflect your true opinion without being caught off-guard.
The Game Plan Will Show You How to...
Lead Your Interview - so you'll connect with the judges and leave a powerful impression
Gain Confidence with Your Answers - so you can rest assured that you said what you meant and meant what you said
Anticipate What They'll Ask You - so you are prepared to show your best self and never caught off-guard
Identify What YOUR Greatest Qualities are - so you can clearly communicate why you are the best choice as the winner of the pageant
Know What to Expect in the Interview Room from a Judge's Perspective - so you'll be comfortable in any setting that's thrown at you
Meet Some of Our Game Plan Winners...

Frequently Asked Questions
When does the course start and finish?
You'll get immediate access to the course when you enroll today. You can go at your own pace and even come back to it when you compete again! There is no 'finish' date as you'll have unlimited access to the course with your one-time payment.
How long do I have access to the course?
After enrolling, you have unlimited access to this course - across any and all devices you own. As long as the program exists, you'll be able to access it :)
What if I am unhappy with the course?
We want you to be satisfied with your purchase. We offer a 30-day refund period for purchases. Just send me an email and let me know why you are requesting a refund. After day 30, all payments are non-refundable and you are responsible for full payment of the fees for the program regardless if you complete the program. If you have any questions or problems, please let me know by contacting me directly at
[email protected]
and I would be happy to help you.
What if my pageant doesn't require a platform?
Not all pageants 'require' a platform to compete. But if you want to win, you need to stand out. In the Pageant Game Plan course, I show you how to do this by creating a Legacy Project. This project will allow you to lead your interview, stand out in your paperwork, and make the judges fall in love with you. Legacy Project is the big domino that makes everything else fall into place for winners regardless of if they need a platform. This course shows you how to do it!
See What Others Said About the Game Plan...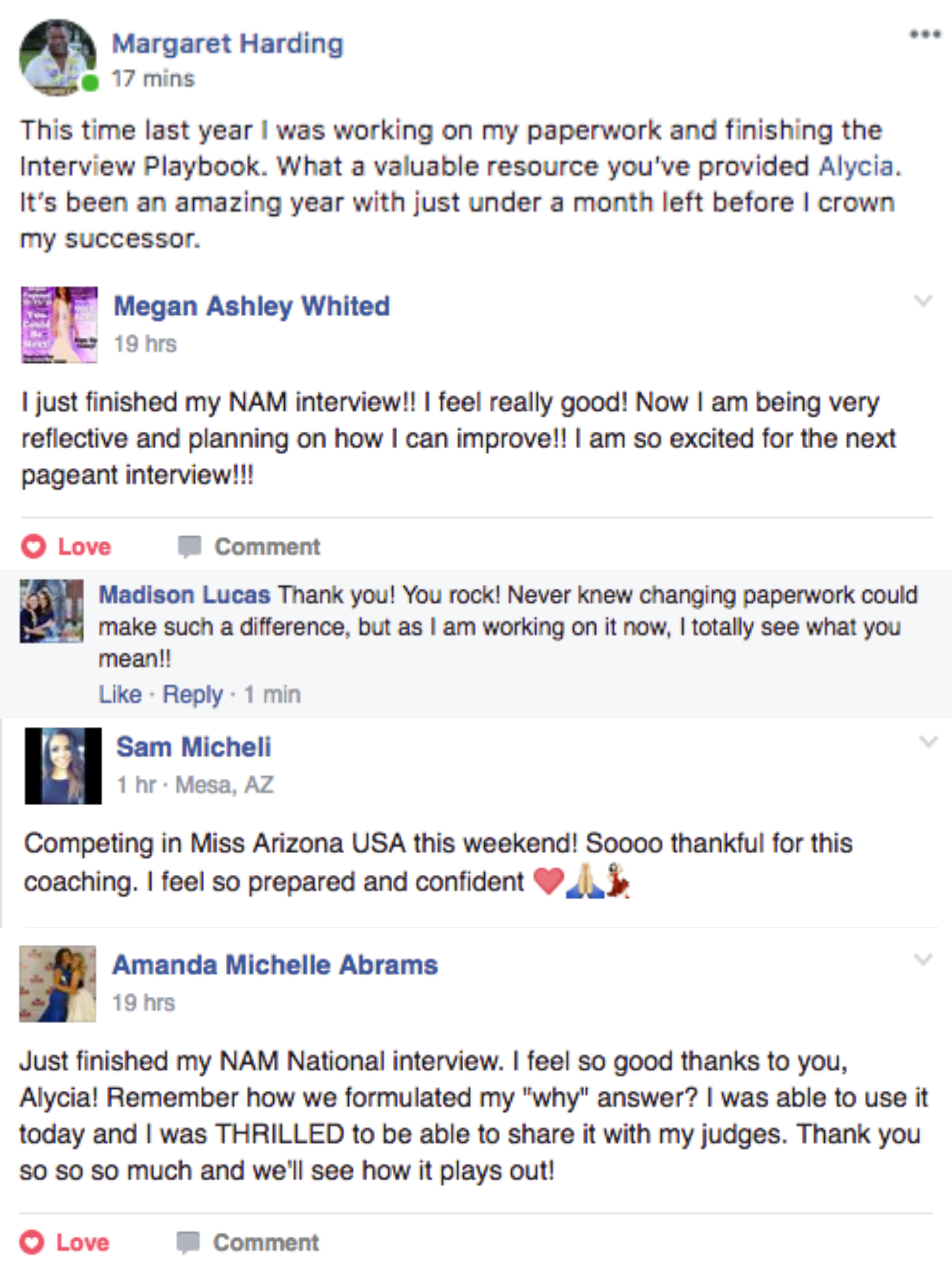 Will you be the next success story?
Join me in the Pageant Game Plan!