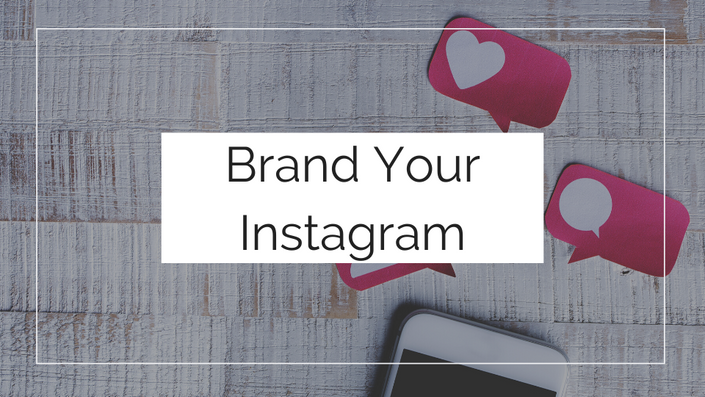 Brand Your Instagram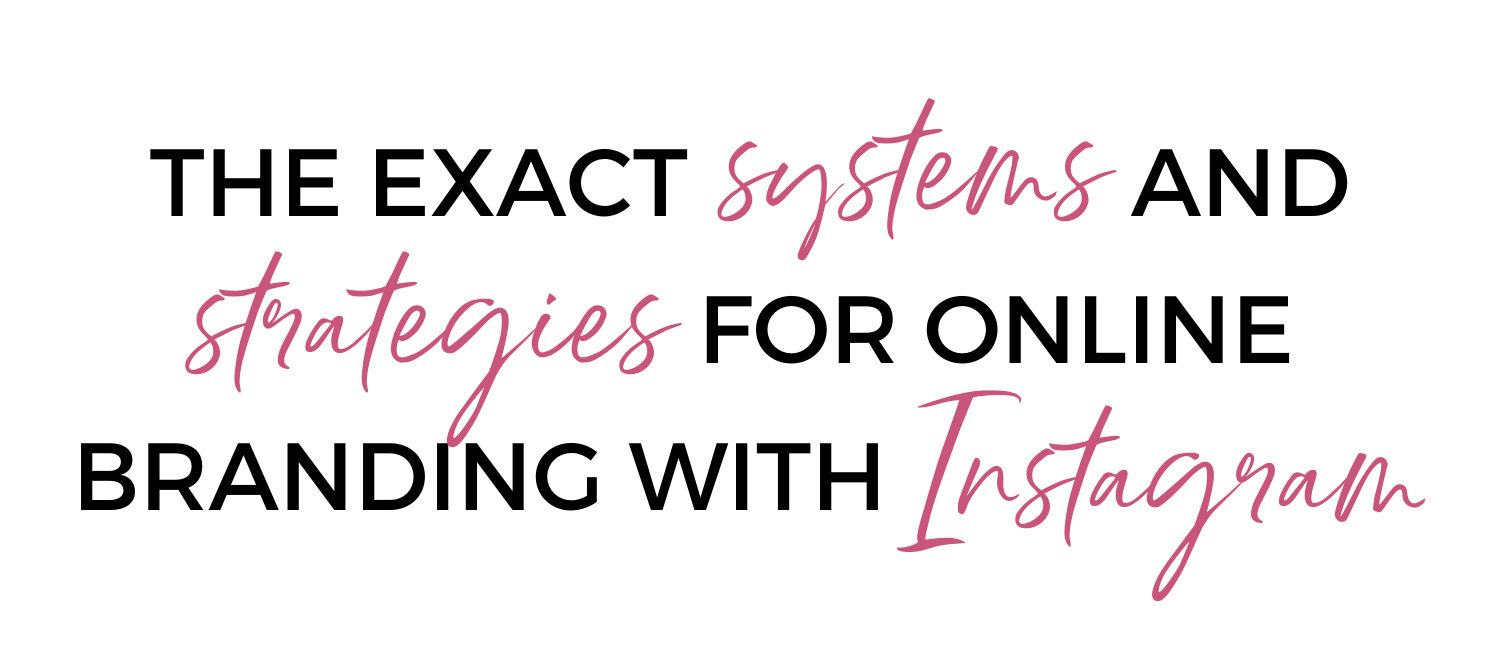 You were proud of your Instagram profile and looked forward to sharing it with people you respect
You knew what the judges wanted from your profile and you proactively post exactly what they want
You consistently got new followers who love you (and your content) and are engaged in what you post
Your stories were fun, engaging, and easy to post - without costing you tons of time in wondering what to post, or second-guessing what you look like
You weren't stressed out about what to post, when to post, and what to say - instead, you have it all figured out well in advance
You Want to Be Proud
of Your Instagram

You're busy and you don't have all day to spend on Instagram, posting, tagging, sharing, oh my!
You think the judges don't even care how big your following is (or do they?)
You have a few ideas of what to post, but you're not sure you have enough to post every day (or even once a week)
You don't know all the fancy apps everyone uses to fill their feed with gorgeous images and fun stories
You don't wanna feel like you have to post fashion trends, workouts or make up tutorials - you want to share what's important to you (but will people still love it?)

It Only Takes 3 hours to Create a Month of Content
Maybe even less once you get good at it! When you have a system of exactly how to develop, create and schedule your content - you can get it all done in less than 3 hours every month. Then, just have fun engaging with your new followers and friends!
You Don't have to post about Fashion or Fitness to Grow

Unless you're into that. But - if those aren't your favorite things to talk about, then don't worry! There are people that agree with you Growing a loyal following means posting what's important to YOU. With a strategy to discover the share-worthy content you already have inside you, you'll be proud of what you post and it will be all the things you LOVE!
Literally ANYONE Can Grow an Audience of Loyal Followers

Yes, even you! There's a formula influencers use to communicate with their audience and it's as simple as following the steps to see the influence grow and impact you can make.
The Judges are NOT Looking for How Many Followers You Have
Your Instagram account is your true FIRST IMPRESSION! But, the judges aren't really looking for how big your audience is (of course they'll glance there) - they're really looking to see if they can trust you with the title. Your first impression is everything to Prove you can be trusted with the title.

Branding System, so you know what to post that relates to your brand for the pageant and in real life...

Your brand is what guides your every move. You need to know exactly what you stand for - and how to communicate that with grace and elegance on social media.
First Impression Strategy so you can WOW the judges...
After they see your Instagram profile, they'll instantly feel like they what to get to know you better and look forward to your interview.
Posting Strategy, so you know WHAT to say...
Your strategy will inform exactly WHAT to post, WHEN to post, and What the heck to say so you can stay on-brand, and develop a gorgeous feed that makes people stop scrolling and immediately follow you!
Story Strategy, so you can have some fun...
Stories are where you connect with your following and keep them coming back for more. Plus - it's so much fun! It's like doing a motivational talk anytime you want. You need to know what works in stories and how to make it fun so you can stop stressing and start connecting with your fans.
INTRODUCING, THE SOLUTION YOU'VE BEEN WAITING FOR...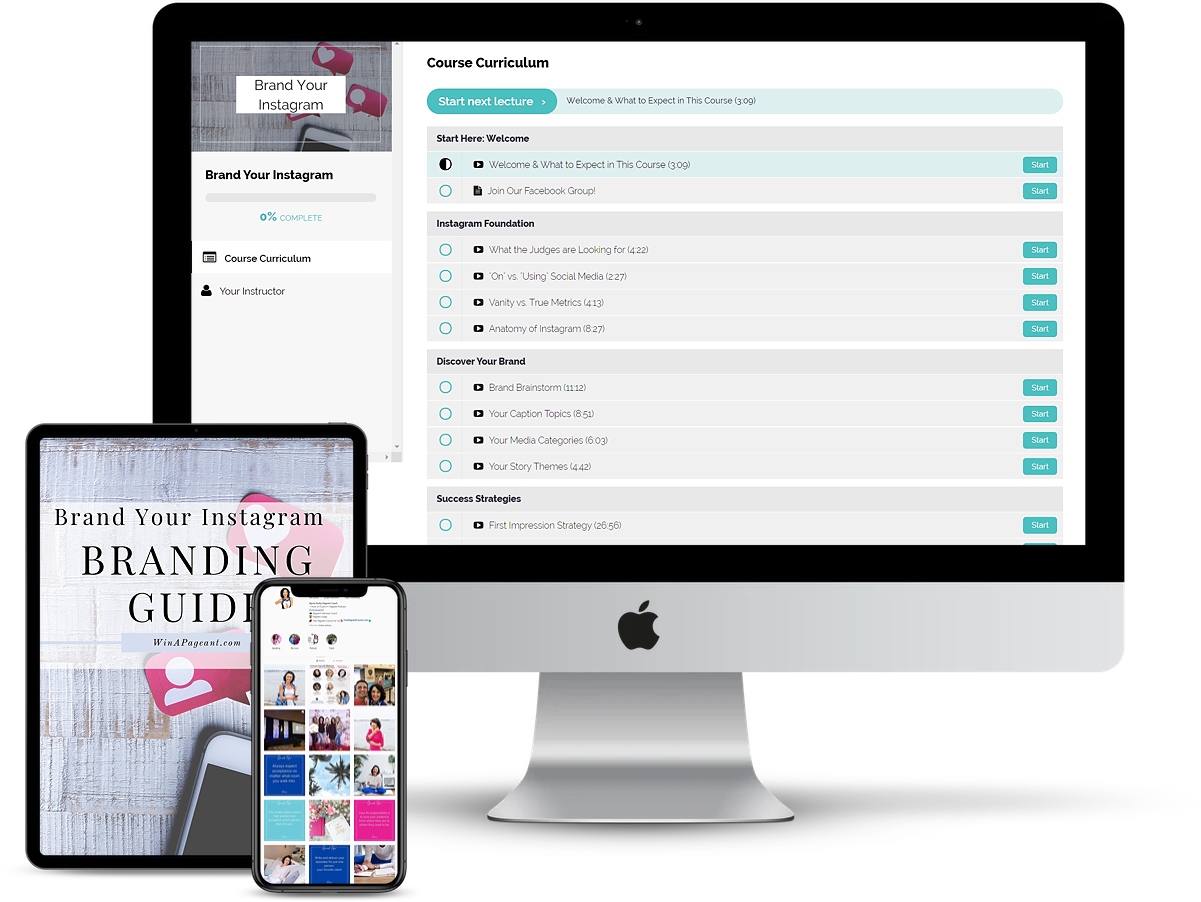 Discover exactly what the judges are looking for and how to give them an incredible first impression on your Instagram
Build Your Brand - find the gold that is already living inside you, begging to be revealed in the gorgeous, organized, fun Instagram feed you've always wanted
Learn how to write inspirational, fun, engaging captions without wasting tons of time thinking the up
Improve your first impression with the simple, powerful Instagram profile tweaks
Get the exact Strategies influencers with huge followings use for Profile, Posting, Scheduling, and Stories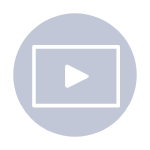 STEP-BY-STEP VIDEOS
Each module contains step-by-step how to videos specifically designed to guide you through each phase of branding, profile set up, and strategies for posting images, captions, and stories. You'll get access to all of these the minute you join the program.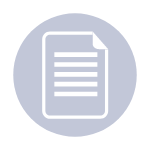 BRANDING GUIDE
You'll get instant access to the Branding Guide that includes fun exercises to discover your brand, detailed step-by-step guides to come up with what to say and post, and resources to ensure your IG is beautiful and on-brand. This easy-to-follow downloadable guide will help you discover your brand and build content around the very best version of you!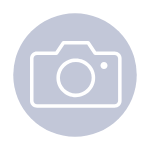 TECH LIBRARY
You'll get an over-the-shoulder at how to use the best apps for posting, what settings to use on your account, and how to create images like the pros. You'll be able to see exactly what to click, download, filter and more!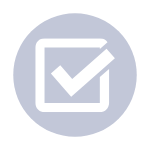 ACTION CHECKLIST
Each lesson includes a checklist of specific action steps to keep you on track for your goals and make implementing this new knowledge really easy. You'll know exactly what to do at the end of each lesson and I'll be there with you every step of the way.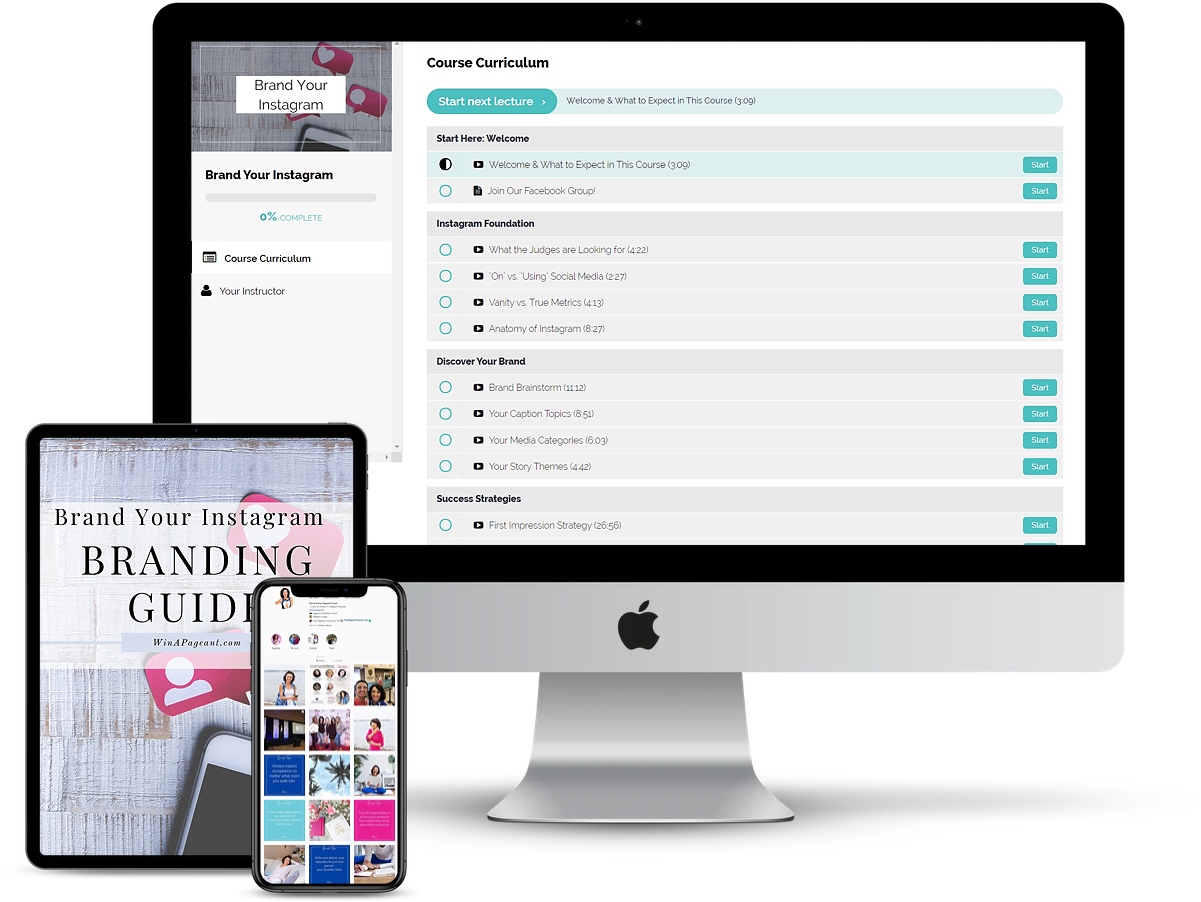 Enrollment is Currently Closed or Only Available with Another Purchase

This program is for you if...

You know you are called to share your message with the world (even if you don't know exactly what it is just yet)
You see yourself as an influencer, but haven't cracked the code on 'how'
You enjoy inspiring, leading, and encouraging others to be their best
You love the idea of Instagram and want to find your followers there
You're just getting started on Instagram and you want to do it right
This program is not for you if...
You're looking to 'buy' followers and don't care about the value you bring
You already have over 10,000 organic followers
You prefer to be super-private and don't want to share your authentic perspective online
Frequently Asked Questions
When does the course start and finish?
You'll get immediate access to the course when you enroll today. You can go at your own pace and even come back to it when you compete again! There is no 'finish' date as you'll have unlimited access to the course with your one-time payment.
How long do I have access to the course?
After enrolling, you have unlimited access to this course - across any and all devices you own. As long as the program exists, you'll be able to access it :)
What if I am unhappy with the course?
We offer a 7-day refund period for this course. Just send me an email and let me know why you are requesting a refund. After day 7, all payments are non-refundable and you are responsible for full payment of the fees for the program regardless if you complete the program. If you have any questions or problems, please let me know by contacting me directly at
[email protected]
and I would be happy to help you.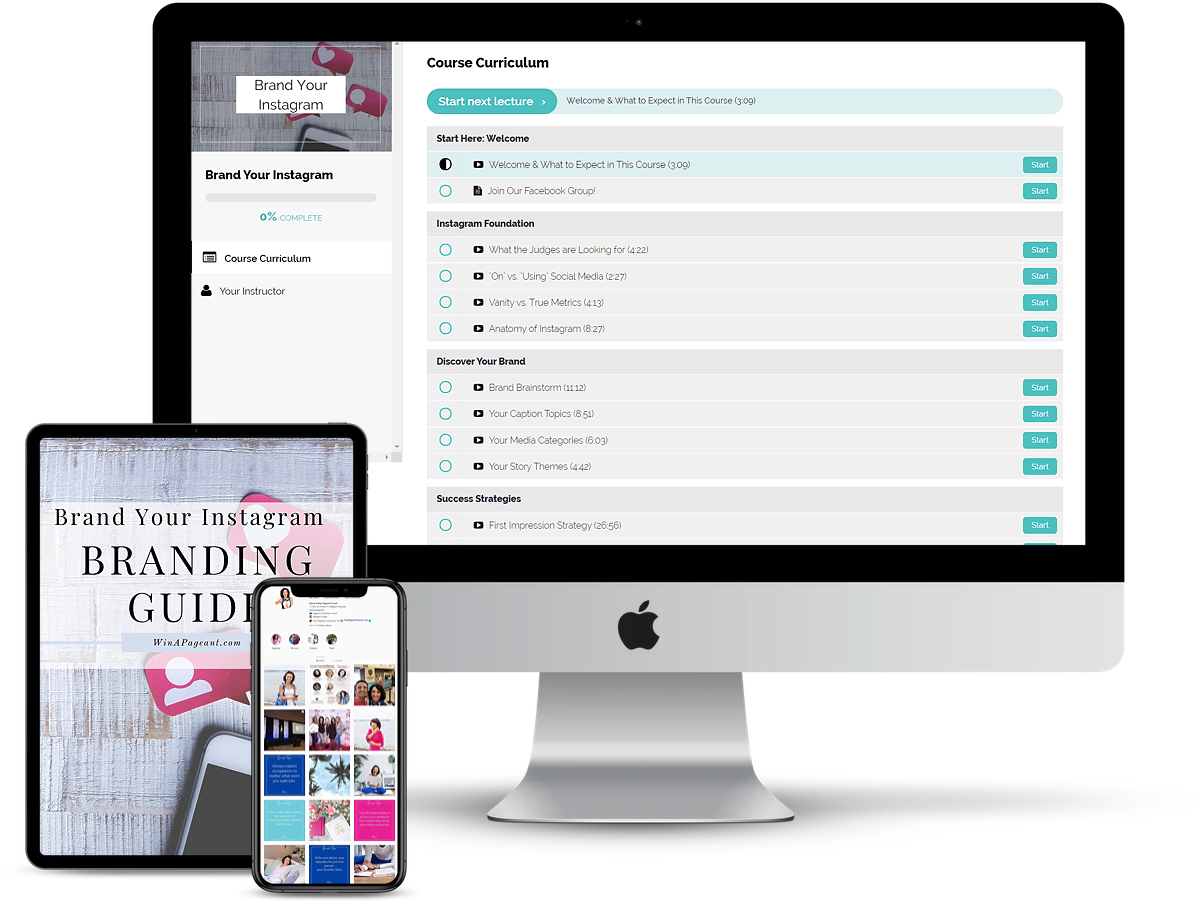 (The Exact Systems and Strategies for Online Branding with Instagram)
Module 1: INSTAGRAM FOUNDATION - What the judges are looking for on your IG

Module 2: DISCOVER YOUR BRAND - and the images, captions, and stories you'll post

Module 3: SUCCESS STRATEGIES - the exact strategies big-time influencers use on IG - 👏🏽this 👏🏽 is 👏🏽gold!!

Bonus: IG TECH LIBRARY - an over-the-shoulder look at how to use apps, what settings to have, and resources for scheduling, captions, photos, filters, and more!
Bonus: INSTAGRAM SUCCESS CHECKLIST - to ensure you're doing exactly what you need to create the success you want

Bonus: BRANDING GUIDE - packed full of simple, fun exercises to discover your brand and how you'll show up on Instagram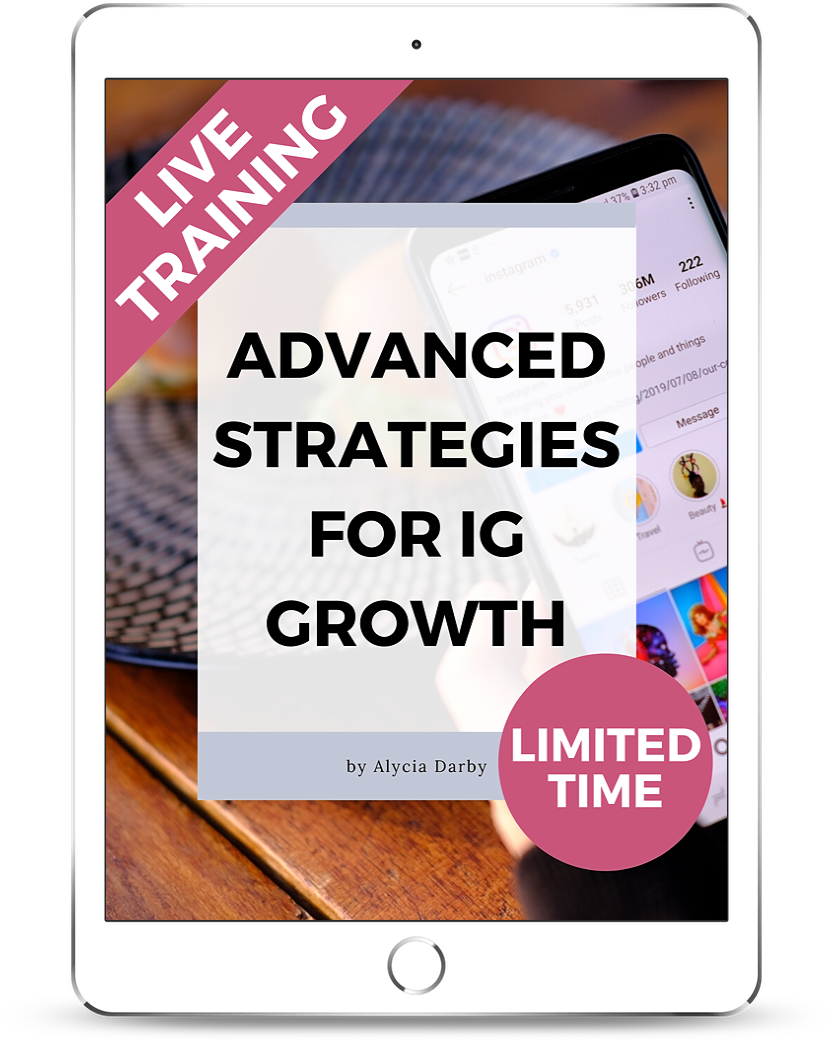 Limited Time Bonus: ADVANCED STRATEGIES FOR IG GROWTH - now that your profile is up to snuff, you're ready to dig into the advanced strategies to really grow your following to "influencer" status

FULL COURSE VALUED AT [$1,999]
Enrollment is Currently Closed or Only Available with Another Purchase